Description
Wx Phos Focused – Our Lowest Phosphorus Foods
Based upon literature and veterinarian advice, pet parents of cats with kidney issues often seek foods with the lowest levels of phosphorus. Such foods will not cure damaged kidneys, but they may, generally speaking, help cats feel better—and this in turn may help cats maintain appetite and muscle mass.
Wx Phos Focused foods is not complete and balanced because it does not contain adequate levels of phosphorus. None of our foods are intended to diagnose, cure, or prevent any disease. Always consult your veterinarian when changing your cat's diet.
Current Weruva Formulas – The Weruva Difference
As the main dietary source of our formulas is boneless meat, many of our complete and balanced formulas (per AAFCO standards) meet or are even significantly below phosphorus levels recommended by veterinarians for cats with kidney issues. Phosphorus is a component of bone, and bones are often in pet food formulas, even if bone is not declared on the package. For instance, the AAFCO definition of chicken is "…flesh and skin with or without accompanying bone".
The Wx Phos Focused Difference
With Wx Phos Focused foods, we have designed formulas with such low phosphorus levels that they are not complete and balanced (per AAFCO standards). And this includes formulas that are more than 20% less than AAFCO minimum standards for phosphorus. We have accomplished this without sacrificing the integrity or quality of ingredients or processing.
No Protein Sacrifice – Wx Phos Focused foods are for the Obligate Carnivore
"But shouldn't I be looking for low protein in addition to low phosphorus?"
Cats with kidney issues may benefit from diets that have lower levels of phosphorus, but we believe it is necessary to include adequate levels of protein. Cats, by definition, are obligate carnivores, and this means their bodies need meat. Meat includes high quality protein which in turn helps maintain muscle mass–something crucial for cats with kidney issues.
Keeping phosphorus on the lower side and protein adequate often presents a challenge because rising protein levels typically correlates with rising phosphorus levels. Accordingly, many traditional "low phosphorus" diets often sacrifice protein content to hit target phosphorus levels. As such formulas swap muscle building protein for other caloric sources, such as carbohydrates, they may not be entirely fit for an obligate carnivore.
By carefully choosing protein sources that contain lower levels of naturally occurring phosphorus (including boneless skinless chicken breast, boneless tilapia filets and egg whites—the same cuts and quality as used in products for people), Wx Phos Focused foods "circles the square". The result—Wx Phos Focused formulas maintain substantial levels of protein to help maintain muscle mass while at the same time providing phosphorus levels below AAFCO standards.
Why Do Cat Parents Seek Lower Phosphorus Formulas
As kidney health declines, the kidneys may no longer filter blood efficiently, and excess phosphorus may enter the bloodstream. Consequently, cats may generally feel ill, become lethargic or experience loss of appetite. Unfortunately, it may become cyclical as the excess phosphorus may further impair the kidneys. A diet on the lower side of phosphorus, while it will not cure kidney issues, may help with the ailments.
Metabolizable Energy Profile – Species Appropriate Caloric Ratio
We aim for:
60% calories coming from fat
40% calories coming from protein
0% calories coming from carbohydrates
Ingredients
Chicken Broth, Chicken, Tilapia, Egg White, Chicken Fat (Preserved with Mixed Tocopherols), Sunflower Oil, Natural Flavor, Fish Oil, Egg Shell Meal, Choline Chloride, Taurine, Zinc Sulfate, Vitamin E Supplement, Ferrous Sulfate, Thiamine Mononitrate (Vitamin B1), Niacin Supplement (Vitamin B3), Calcium Pantothenate, Vitamin A Supplement, Manganese Sulfate, Copper Sulfate, Riboflavin Supplement (Vitamin B2), Pyridoxine Hydrochloride (Vitamin B6), Vitamin D3 Supplement, Folic Acid, Vitamin B12 Supplement, Potassium Iodide
Feeding Guidelines / Directions
This food is not complete and balanced and should not be fed as the only meal to cats on an everyday basis. Consult your veterinarian about how to fit this food into your cat's diet. Feed according to the age, size, and activity level of your cat. If fed alone, feed 1 oz for each pound of bodyweight daily, best fed in multiple feedings throughout the day. Your cat should have access to clean, fresh water. Refrigerate after opening.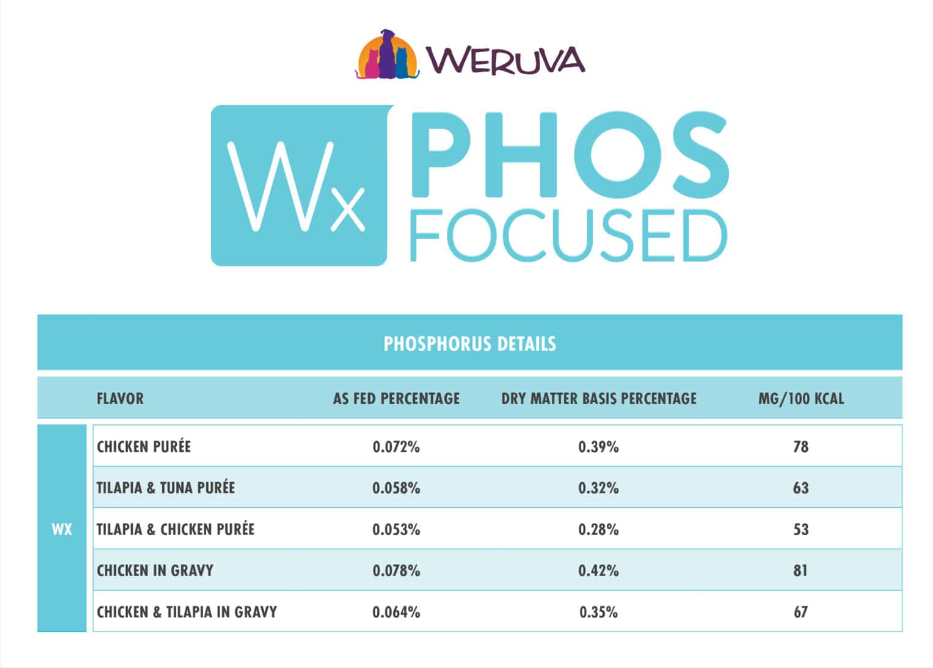 In the chart above, we have listed phosphorus information based upon a lab analysis of the "as fed percentage", "dry matter basis percentage", and "mg/100 kcal".

AS FED – measures phosphorus as an overall percentage of ingredients
DRY MATTER BASIS – measures phosphorus as a percentage of ingredients after moisture is removed
mg/100 kcal – measures milligrams of phosphorus in 100 kcal of food